Clear Foil Stamping: Unforgettable Production
March 15, 2022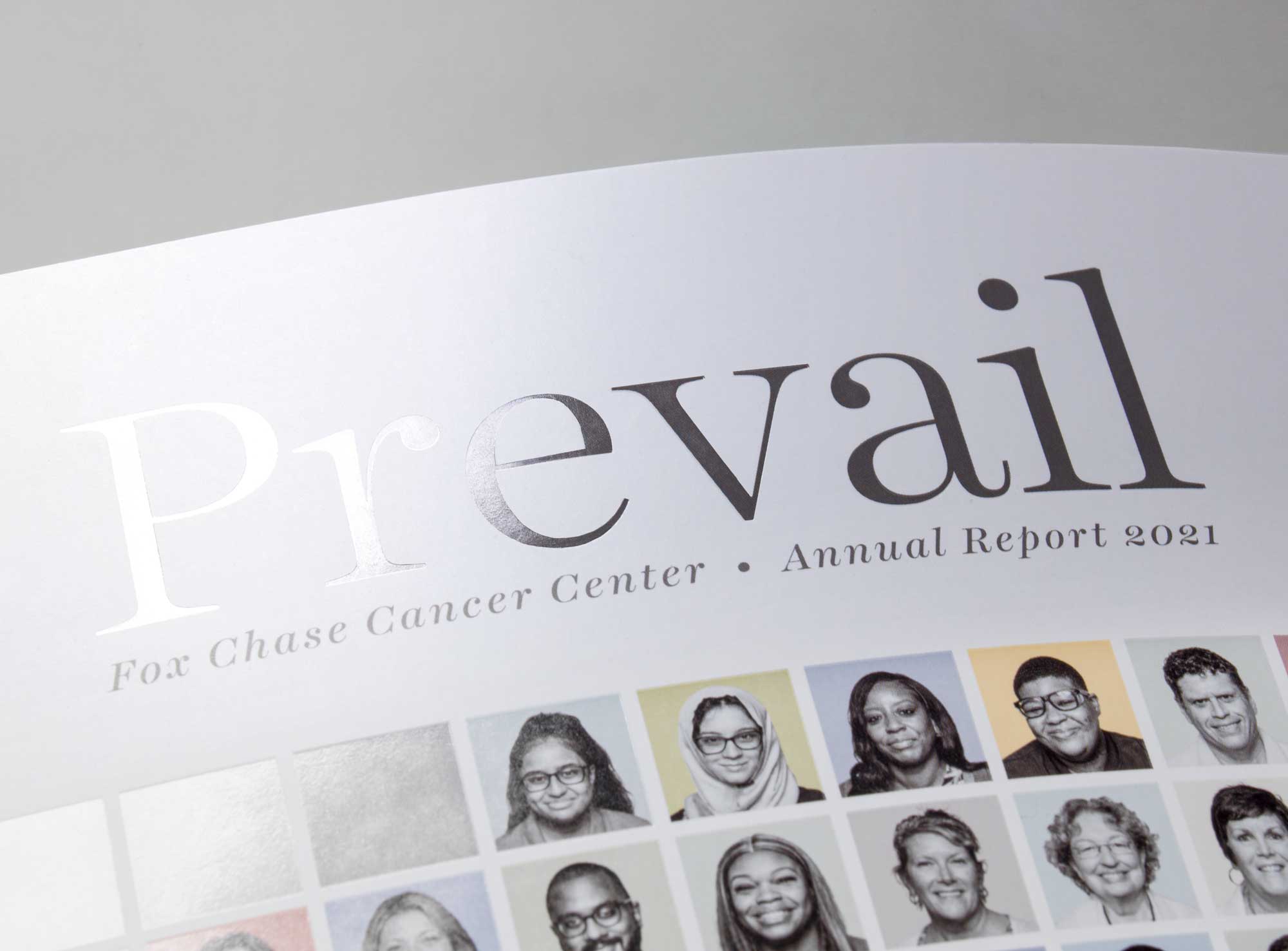 The Fox Chase Cancer Center's 2021 annual report showcases classical graphic design by B&G Design Studios. The editorial content and photography are crafted together to communicate the growth and accomplishments of Fox Chase in way that is purposeful and memorable. The final touch is the cover featuring photos of faculty, staff, patients, caregivers and volunteers as a testimony to Fox Chase's year of notable accomplishments. The 133 photos and "Prevail" title are highlighted with an application of clear foil stamping. The clear foil rests into the paper, and – unlike spot UV – has no "layering." Additionally, the foil stamping has a particular look, different from a spot varnish.
This kind of work can only be achieved through concentrated collaboration. We would love the opportunity to work with you to achieve excellence and to show you how we put heart and soul into every project. Call us now. We are ready to help.
B&G Design Studio is an award-winning design studio located in Philadelphia, specializing in cutting edge editorial design for magazines, brand identity, custom publishing, annual reports, supplements and websites. Principals John Goryl and Tim Baldwin have created magazines and annual reports that have won numerous national awards for corporate communications in the healthcare industry. Each project holds its own unique design features, but always includes the remarkable synergy of graphics and typography for effective storytelling.
Brilliant has had the opportunity to create a lasting relationship of artistic collaboration with John and Tim. In addition to handling the color correcting and retouching of all of their photos and images, we also communicate directly with their clients to manage the processing of data and specific mailing requirements for all of their publications.