The Magnificent Bridges of New York City by Dave Frieder
October 8, 2019
All books are special. They are artifacts, proving that someone lived, worked and left their perspective on pieces of our world in the form of art. The Magnificent Bridges of New York is just such an artifact, showcasing the work of its author, Dave Frieder.
Dave is a walking documentary on the bridges of NYC. He knows the history, designers, construction methods and engineering significance of each bridge project. This knowledge informs his approach to looking at these great structures through the eyes of an accomplished photographer. His black and white negatives were made using large format and Hasselblad cameras. Climbing over these behemoth mountains of steel and cable with his gear was fueled by his passion of the work. With stunning quality, the book pays great homage to the Dave's vision and craft. Printed in 400 line hybrid screening (ultra high resolution) and with quadtone separations made under the watchful direction of the photographer, the finished book is absolutely stunning. "Bridges" measures 12" x 12" and the photographs are given ample room to spread out over 220 pages, resting in a fabric covered cased cover.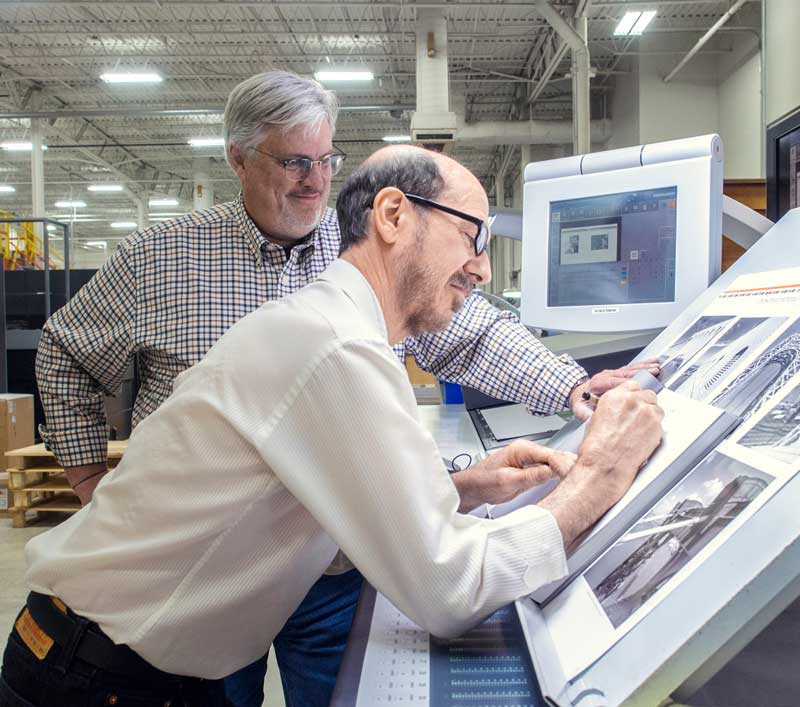 About the Artist: Dave Frieder
Photographer and author, Dave Frieder signing a first copy of his book for the print crew.
To learn more about Dave Frieder's impressive work and to buy the book, please visit him at davefrieder.com.