University of Delaware's Celebration of Inspiration and Innovation
January 27, 2021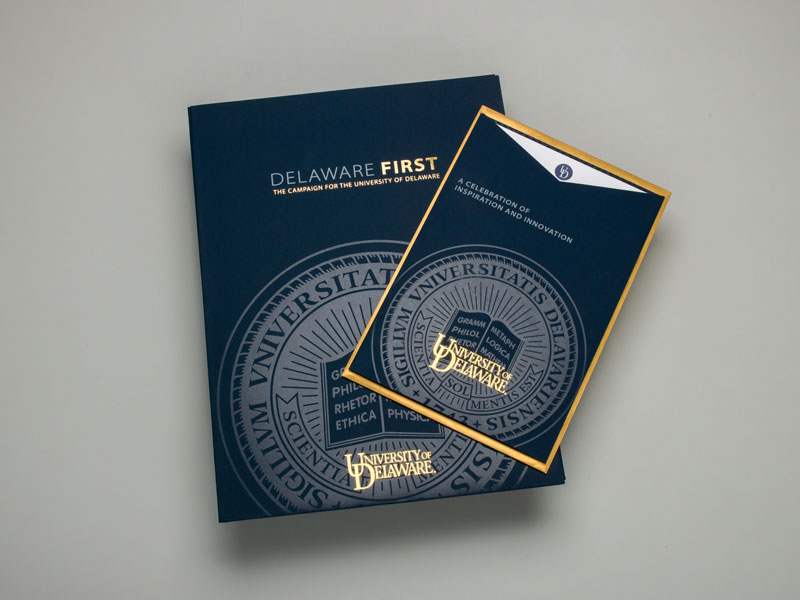 The invitation for the University of Delaware's Celebration of Inspiration and Innovation, hosted by the President and First Lady of the University of Delaware, required a uniquely special look and feel in order to communicate their message of a progressive and impactful future.
The designer wanted to create an elevated look for this high profile celebration by selecting the special Blue Touche paper, which required testing of spot gloss varnish, gold foil stamping, and opaque white to determine optimum results. We wanted to ensure the varnish wouldn't be absorbed into the paper and that it would have a radiant hold-out. The gold foil was essential to the university's identity, so we guaranteed it would have a clean release on the fine type. The opaque white type was double hit to increase the crispness and readability of the copy. The prototyping gave confidence the project would be a success.
In addition to jumpstarting a significant campaign for the University of Delaware, it was also our first project with them. The invitation design and production was so well received that they wanted to replicate its stylistic features using the same techniques on a larger scale for the campaign pocket folder and accompanying materials.